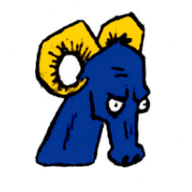 Hamburger Connoisseur
Moderator
Joined

Jun 28, 2010
Messages

39,191
Name

Burger man

Stafford just turned 33. Maybe it's too early... But, anyone imagine a scenario we draft a QB? Or we set with Wolford?
Maybe a later round development type? Me; I don't. Not enough picks.
But, even if not the Rams... anyone have a dark horse QB that could surprise from this class? So much of the buzz is around the top 4-5.
| RANK | NAME | QB | SCHOOL | YEAR | HEIGHT | WEIGHT | CONFERENCE |
| --- | --- | --- | --- | --- | --- | --- | --- |
| 1 | Trevor Lawrence | QB | Clemson | Junior | 6'6" | 220 lbs | Atlantic Coast - Atlantic |
| 5 | Justin Fields | QB | Ohio State | Junior | 6'3" | 223 lbs | Big Ten - East |
| 9 | Zach Wilson | QB | BYU | Junior | 6'3" | 210 lbs | FBS Independents |
| 24 | Trey Lance | QB | North Dakota State | RS Sophomore | 6'3" | 224 lbs | -- |
| 65 | Mac Jones | QB | Alabama | RS Junior | 6'2.5" | 217 lbs | SEC - West |
| 133 | Kyle Trask | QB | Florida | RS Senior | 6'5" | 239 lbs | SEC - East |
| 134 | Davis Mills | QB | Stanford | Senior | 6'4" | 222 lbs | Pac-12 - North |
| 175 | Jamie Newman | QB | Georgia | RS Senior | 6'3" | 235 lbs | SEC - East |
| 201 | Kellen Mond | QB | Texas A&M | Senior | 6'2.5" | 205 lbs | SEC - West |
| 207 | Sam Ehlinger | QB | Texas | Senior | 6'1.5" | 222 lbs | Big 12 |
| 223 | Feleipe Franks | QB | Arkansas | RS Senior | 6'6" | 234 lbs | SEC - West |
| 306 | Shane Buechele | QB | SMU | Senior | 6'1" | 207 lbs | American Athletic - West |
| 313 | Peyton Ramsey | QB | Northwestern | RS Senior | 6'2" | 205 lbs | Big Ten - West |
| 315 | K.J. Costello | QB | Mississippi State | RS Senior | 6'5" | 222 lbs | SEC - West |
| 341 | Zac Thomas | QB | Appalachian State | RS Senior | 6'1" | 210 lbs | Sun Belt - East |
| 360 | Brady Davis | QB | Illinois State | Senior | 6'4" | 210 lbs | -- |
| 362 | Ian Book | QB | Notre Dame | Senior | 6'0" | 210 lbs | FBS Independents |
| 367 | Zach Smith | QB | Tulsa | RS Senior | 6'3" | 228 lbs | American Athletic - West |
| 374 | Brady White | QB | Memphis | RS Senior | 6'3" | 215 lbs | American Athletic - West |