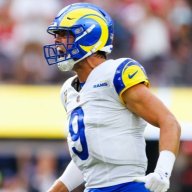 Behorned Beerocrat
Rams On Demand Sponsor
Joined

May 8, 2014
Messages

25,398

To me, the Rams are going to make the playoffs, that's not the issue, for me.
I think they need to worry less about the individual games and much more on their identity in all 3 phases.

Because their current identity is a bad match for several teams they're likely to face in playoffs.
Precisely. They have to get balanced on offense to be ready to survive the playoffs. During which they're gonna start as a wildcard on the road which sucks serious ass.
I mean they are capable of running the table and winning the division and a top seed. But is it likely? Not really. So being the top wildcard is more likely and from there they can play their typical role of being the most undesired matchup from the lower seeds.
Which, btw, McVay is very good at. He seems to be better at being the underdog than when he's got the team who is on top. That might also be the players in the locker room too of course but all this might actually work in our favor if they can go into the playoffs with their identity aligned and all that.
Re: defense it's simply going to have to get better and be capable of preventing opponents from sustaining drives all day long. If not then we'll be knocked out in that wildcard round or at the latest the divisional round for sure.