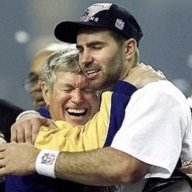 Joined

Jun 1, 2015
Messages

2,642
I loved the way Wolf moved the O and created plays off schedule vs Ariz and Sea. Smart, mobile, athletic, makes good decisions (needs to take care of himself better though, as others have rightly pointed out).

IMHO Wolford could be put into the lineup and win a playoff game if necessary.

So yeah, I'm very happy with Wolford as our backup QB.
4
Reactions:
Oldgeek, OregonRamFan, BriansRams and 2 others