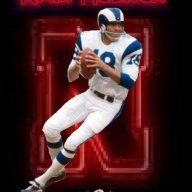 Rams On Demand Sponsor
Rams On Demand Sponsor
Joined

Jul 15, 2010
Messages

10,417
Name

Bo Bowen
Not to ruin the fun, but In a "shit just got serious" for us kinda post, it seems our daughter in law Emma just tested positive for Covid.

She just started her new job as a Delta flight attendant last month and got feverish on a return flight from LA to Atlanta. Initially tested negative and diagnosed with strep. Our son stayed home at first, but then returned to work as a district manager for Dunkin Donuts after her initial diagnosis. But Emma just kept feeling worse and worse, so they took her back in for another test yesterday, which has come back positive today.
.
Now we have those 2 and 4 grand children all on quarantine. So far the kids are all fine, and moms staying in bed. Thankfully her symptoms are not bad enough for hospitalization, but that means they just sent her home and they all gotta stay there together I guess.

Granddaughter Scarlett has her 14th birthday in a few days, we're trying to come up with something clever we can do for her from the other side of the window.

It's a bit worrisome to me that Alan was exposed to Emma and unwittingly went to work at dozens of different Donut stores all week. He says he's feeling fine but...dayum, the implications of community spread are sobering to say the least.

Anyway.....not sure how to really feel right now. Positive or worried?

It seems like last week the first test 3 days for results. This week it took alittle over 24 hrs. So things ARE getting better.
Sorry to hear it man. Hope it runs its course with no complications. And that's what probably will happen. Scary that she tested negative initially. Now I'm not going to eat a donut for awhile. Hang in there brother.