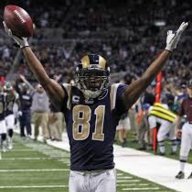 Joined

Jun 11, 2017
Messages

1,924
If Atwell turns-out to be useless; and Ernest Jones is no more than a Practice Squad player, then you are right. There was another poster who predicted Jones would end-up on the 2021 Practice Squad.

These were two players the Rams clearly liked a lot. Yarber told Atwell the Rams may not let Atwell out of the second round; and McVay told Peter Schrager that the Rams would not pass on Atwell. The Rams' metrics ... whatever they are ... really favored Jones over a number of ILBs projected to go higher; and Snead said he would have been the pick at #88 had they not traded-down.

These were the kind of picks that McVay and Snead SHOULD be remembered for. If they turn-out well, us fans should remember that.

If your analysis is right, then that reflects poorly on McVay and Snead.

Hope you are wrong but if you are right, then I hope you are hired as the next GM.
Even if Atwell and Jones turn out to be useless, this draft could still be considered a success (other than center) if the other players pan out. I really like some of the picks in the fourth fifth and seventh round (special team players are useful too). We sucked last year in our special team coverage units. And our return game wasn't much better.