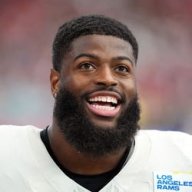 Rams On Demand Sponsor
Rams On Demand Sponsor
ROD Credit | 2019 Richest Member
Joined

Nov 3, 2013
Messages

24,282
So what do we know so far?
O'Brien is out as coach and GM in Texas.
Quinn is out in Atlanta.
Patricia is out in Detroit.
Hot seat?
Pederson is reported to be at major odds with Eagles leadership and they're having a terrible season.
As nice of a guy as Anthony Lynn is you don't lose to NE like that after continually blowing games in the 4th Q. Spanos is a cheap POS so may not want to pay 2 coaches which would keep Lynn at the helm.
How long is the life line that's attached to Marrone in Jax?
The most obvious that needs to go IMO is Adam Gase.
McCarthy in Dallas I'd imagine gets another shot.
Our guy Zac Taylor could also be on the hot seat though I think a lot of that is Mike Brown is terrible and they just can't draft at all.
HC Candidates?
NFL Guys
Our guy Staley has to get some consideration even though he's in his first year as a coordinator.
Robert Salah should absolutely get a shot and I hope he gets it in the AFC
Bieniemy is the very hot name among OC's. He has some skeletons in his closet and has been rumored to not be a good interview but his name is too hot somebody will hire him.
Dennis Allen? That Saints defense is outstanding and even though he already had one shot and was terrible he could get another shot.
Joe Brady has done a decent job as OC for the Panthers and was a very hot name last year.
Todd Bowles is one of the better DC in the league and should get another shot.
Saints OC Pete Carmichael has been mentioned in the past but how much input does he really have and what does he really know? We all know asshole face runs things there.
Brian Daboll has done a stellar job in Buffalo with that offense again same for Leslie Frazier on defense.
Byron Leftwich will get interviews though he may need more time like some others on this list.
College guys (some of these guys I don't know much about just have seen their names so will list)
Matt Campbell Iowa St, Lincoln Riley OK St, Pat Fitzgerald Northwestern, Urban Meyer, James Franklin Penn St, Dan Mullen Fla and Brian Kelly.
Again don't know much about some of the college guys but Fitzgerald and Riley I think could make the jump and would be excellent coaches. I don't think Dabo leaves Clemson same as Sabban with Bama.
Thoughts?
Oh this popped up today which got me thinking about this thread.
View: https://twitter.com/MySportsUpdate/status/1338162781158301697
View: https://twitter.com/MySportsUpdate/status/1338160605686083585
6
Reactions:
Selassie I, CGI_Ram, Karate61 and 3 others