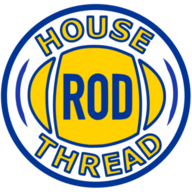 Joined

Apr 3, 2022
Messages

4
ROD FEATURE
The Rams Need to Write the Final Chapter of Tom Brady's Story… Again
By AvengerRam,
@AvengerRam
May 10, 2022
On February 3, 2002, the Rams were supposed to make history.
Before them was an opportunity to win a second title in three years, and to cap off one of the most dominant seasons in league history.
Instead, a young upstart named Tom Brady helped the New England Patriots change the script and begin an unmatched dynasty and a career that earned Brady the title of "G.O.A.T." (Greatest of All Time).
Twenty years later, it looked like the Rams had returned the favor by preventing Brady from achieving the storybook ending he sought and sending him home in defeat. This ending just seemed right, at least from the perspective of Rams' fans and the many NFL fans who perceive Brady as a bit too arrogant, a bit shady, or just plain unlikeable.
It really was, in many ways, the perfect flipping of the script. The calm, cool and confident Brady had his lipped bloodied and, adding insult to injury, was flagged for his aggressive messaging to the officials his belief that "they can't do that to ME!!!"
Even more poetic was the parallel between the ending of Super Bowl 36 and the Rams' defeat of Brady and the Bucs. In 2002, the Rams erased as 17-3 deficit, only to see Brady march his team into field goal range in under two minutes. In 2022, the Rams fumbled away a huge lead, leading to a tie game with under two minutes to play. This time, however, it was Matthew Stafford who found a way to get his team into range for a walk-off field goal.
Unfortunately, Brady had us all fooled. After a short "retirement," he announced he was returning. By all indications, it was never a serious plan to leave the game. Rather, it seems that Brady was engaged in a power struggle that resulted in the removal of Head Coach Bruce Arians, who had dared to challenge Brady when his play was less than stellar.
Now, we have an announcement that Brady has already been hired as a FOX Sports commentator with a promise of an unprecedented salary whenever he decides to hang it up for good. Brady, upon the breaking of this story, announced that he's looking forward to his broadcasting career, but first must attend to "unfinished business" on the field.
Ah, yes… that old Brady arrogance. The idea that he's in control of everything, and that he can just will his way to the perfect "riding off into the sunset" finish.
Not surprisingly, the national media has eaten up this story. I mean... its a great narrative from a dramatic standpoint. From a football/analytical standpoint, on the other hand, one can certainly question the logic behind jumping on Brady's bandwaggon. After all, the Rams have faced Brady's Bucs three times over the past two seasons, and bested them in each instance.
And so, the Rams have a job to do. For the sake of humility. For the sake of those who believe that Brady has crossed from "hero" status to an over-the-top deification. For the sake of the 2001 GSOT team that had history stolen by a QB who won the MVP with 145 yards passing… the Rams need to end Brady's run, once and for all.
Again.