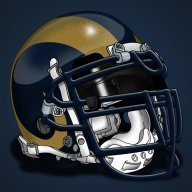 Joined

Sep 9, 2016
Messages

524
Name

Sean
I work near the Rams practice facility in Ventura County. Towards the end of my shift today, a middle aged man came in and he was wearing a Rams hat. I told him that I liked his hat and then we began talking about the Rams. I told him how excited I was about the new coaching changes because I was tired of Jeff Fisher. He doesn't really say much about what I just told him but he kind of looked at me a little weird.

I then asked him what he thinks of McVay.

He responds with "I love him."

We continue to talk a bit and I have no idea how big a fan this guy is or how closely he follows the Rams so I say" I don't know if you follow the draft too much but it begins next week. I hope the Rams take Engram in the second round because he's similar to Jordan Reed and McVay really liked him when he was with the redskins.

The man responds with "wow, you really know your stuff."

I then respond with "yeah, I am a huge Rams fan. I then say " I don't know if you know who Tyler Higbee is but he came into my work a few months ago, it's awesome living in this area because you can run into some players and meet them."

He smirks and pulls out his hand to shake my hand and says" I am Joe Barry, assistant head coach and linebackers coach." He then turns around and leaves and I am just standing there like how the hell did I not put the face to the name? I felt so stupid afterwards with some of the comments I made when asking if he knew who Engram, or Higbee was.

Looking back at the conversation after finding out I was actually talking to Joe Barry and not some random casual fan. I thought it was cool that he said " I love him" in regards to what he thinks of the new coach.