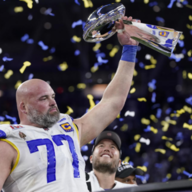 Joined

Jun 18, 2016
Messages

2,447
A lot of bye week subjects and talk about the regression of the 2021 Rams defense under tutelage of Raheem Morris.
The results are a fact even with the loss of Sebastian Joseph Day and Justin Hollins. And the other regressions of players from the 2020 season.
A lot of talk about the usage of Ramsey and the decline of Darious Williams and Jordan Fuller.
A lot of talk about Stafford regressing over the last 2 games.
A lot of talk about Von Miller (is he too old and injury prone) to make an impact over the last 7 games?
A lot of talk about OBJ (is he going stay healthy himself and make up for the huge loss of Robert Woods?
A lot of talk about McVay (Is he too much like Martz giving up on the running game even when it's working?
A lot of talk about the Special teams units looking more of the same as they did in 2020?
A lot of talk about injuries to key players. (RB Akers - OLB Hollins - DT Sebastian Joseph Day - WR Robert Woods - TE Johnny Mundt.
A lot of talk about the coaching flaws of HC/OC McVay - DC/Morris and Special Teams coordinator/DeCamillis.
A loss against the Packers will likely make the Rams a long shot wildcard contender to make a run in the playoffs.
A win against the Packers will be huge but it won't define who the Rams will be over their last 6 games.
Even If the Rams are able to pull off an upset at Green Bay, they still have very tough games left at the Vikings - at the Cardinals, versus the 49ers and at the Ravens.
Nobody knows for sure how the 2021 Rams will finish over their last 7 games.

They might have hunches but the Rams could finish the regular season 13-4, 12-5 or 11-6. They might even eek into the playoffs with a 10-7 record.

Fans have no clue what their regular season schedule record will be.

If they did, they would bet their mortgage and take a calculated risk based on their superior arm-chair quarterback observations.