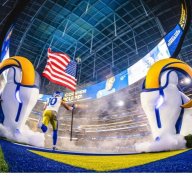 System Waterboy
Rams On Demand Sponsor
Joined

May 8, 2014
Messages

18,464
One thing that keeps occurring to me is that there's going to be a ton of deviation on NFL team boards going into this draft. So it seems like the teams that do the best job in diving deeper and are willing to spend on ensuring they have covered as much of the class as possible are going to see more of a boost than they might in a normal year.

Even as early as round 2 there is probably a good chance some players on your board that in a normal year wouldn't get to you will either get to your pick or get close enough to where you can go get them.

I really think this is going to be one of the craziest drafts we've seen in a long time. Have to think that Snead is thinking of stealing a legit impact player there in round 2.