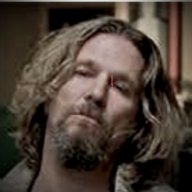 Joined

Jun 20, 2010
Messages

35,505
Name

The Dude

Not really a show, and not on Netflix, but I didnt know where else to put this. Lol

Has anyone seen the 2 part bio on Tiger Woods? Mind blowing to say the least. While it doesnt paint him in a positive light, I have to say that I have more respect for him than ever. And at the same time I feel bad for him. Now had I read what I just wrote before watching, I'd have said, "Yeah being worth near a billion dollars makes up for a whole lot" but that is not how I felt after
Yeah, to quote Forest Gump, having money means just having one less thing to worry about. It doesn't do anything for your quality of life if you were incapable of being happy beforehand. So many stories of lottery winners who made out even worse after winning.
Spicoli had it all figured out. He just needed a cool buzz and some tasty waves. Evidenced by how he just pissed his windfall away by hiring Van Halen to play his birthday party.
I realize those are two fictional characters, but the moral is still tight.