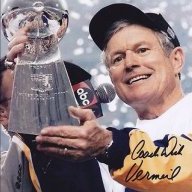 Joined

Jun 20, 2014
Messages

3,158
So many discussions have occurred about so many options on Rams OL direction in '21 and beyond.

And we must remember that McVay specifically selected Carberry to guide his Rams through this maze. I suspect that we're not giving the new OL coach sufficient credit for kinda masterminding a new direction for this Rams OL this offseason.

Will Rams be looking for more power run blockers?

And, if so, what is the Ram future for the following:

Center. Clearly an upgrade was required. Could be via draft, internally, or an inexpensive FA, or some combination of these.
Whitworth. Obviously this year's starter at LOT, but is this his last year as such? Quite probably, I think.
Hav. Will he be traded this offseason by draft day? Or the next?
Noteboom. Future Ram LOT to replace Whit? Or will he be allowed to walk next year?
Corbett. Legit C candidate or an ascending OG?
Edwards. OG or potential RT this year or next?
Evans. Can he be a possible OG in Carberry's 'new' blocking scheme or is he a possible eventual RT as soon as this year?
Allen. Don't go to sleep on this guy at C just yet. Rams have kept him around for a reason. Kromer was a fan. Does Carberry like him?
Shelton. Some think he might be the future starting C that caused Rams to let Blythe go for.
Anchrum. Some think he could potentially play any of the 5 OL positions and play them well. Kromer was impressed with him. Is Carberry? And, if so, how much?

There have been strong hints about a 'new direction' for this Ram OL. Kromer unexpectedly departed late in the offseason causing some speculation about philosophical differences regarding OL with McVay. Carberry hired and McVay seemed almost giddy afterward. Reminded me of his joy after hiring Staley last year. This shouts 'Change' to me.

Jourdan shared that she had been told that 3 new OL members would be brought in this year, and we all know how well connected Jourdan has been.

New QB named Stafford behind C this year and I think that the Rams want to give him the best possible OL in front of him to allow him to work his magic. To do otherwise would seem foolish.

Put all of the above in the blender and what should we conclude?

I think we would be wise to leave all OL options on the table, frankly. And I do mean ALL of them. Let's indulge in some outside-the-box thinking on OL until further notice.

How soon and how many OL players will be brought in via draft? Maybe FA? Promoted from within?

And will there be shuffling of starters on this OL so that McVay/Carberry can better have their power run blocking?

Snead/McVay/Carberry have been very tight lipped so far, almost giving the impression that they've painted themselves into a corner with C options here a month before the draft, but I don't believe that. I believe that they are executing their plan while keeping other teams and we fans guessing.

I don't know their exact plan, of course, but I do know this. We should expect the unexpected regarding '21 OL moves and Carberry is right in the middle of all of it. Nothing should be considered absolutely off the table.

Rams are playing chess here while other teams are maybe playing checkers? I'd bet on it.
3
Reactions:
BonifayRam, Faceplant, BuffaloRam and 2 others