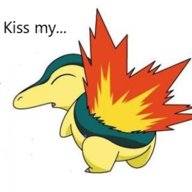 Your (Somewhat) Friendly Neighborhood Authoress.
Joined

Jul 30, 2010
Messages

15,805
Name

Jemma
Firstly, I want to thank you for coming to this board and answering questions for us. I realize that it's been a tough year so far; there were - still are - a lot of expectations from the fans, the players, the coaching staff, and the front office. We're extremely grateful that you decided to answer some questions from the fans on this forum, especially at a time when it would have been easy to simply decline to answer questions.

But onto the question that I'm curious about. You were a highly-touted tackle out of LSU, and you've definitely faced a long slate of talented defensive linemen and linebackers, both in college and the pros. Who would you say is the most talented pass-rusher you've faced and why?

Again, thank you, Mr. Barksdale, for answering our questions. I'll be at the game next Sunday, and I will definitely be lending all of the support I can to you guys.

Go Rams!