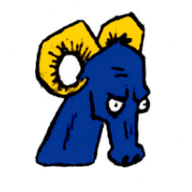 Hamburger Connoisseur
Moderator
Joined

Jun 28, 2010
Messages

39,127
Name

Burger man

The Rams were in a losing rut before emerging in 2017 as one of the consistently better teams.
For 4 seasons we've been pretty damn good
, with a 5th season queued up. It's been a great stretch of Rams football!
Thank You Rams!
So, what happened to bring on this winning period?
Or... have we been building this for a while?
Kevin Demoff, 42 COO 2009
Les Snead, 50, General Manager 2012
Stan Kroenke 73, Sole Owner 2015
Sean McVay, 35, Head Coach 2017
Some of these guys have been around for years.
Kevin has
always
worked a good salary cap. He's one of the best... and he's been doing it for a decade plus.
Les has been GM for 8-9 years. Hard to remember that. Partly overlapping the "bad years" by 4-5.
Kroenke has been with the team since the 90's, before full time ownership in 2015.
McVay, on the surface, looks like the difference maker, or was he just the final piece?
Lots to think about....
Demoff hired Snead and by association McVay. So, team building starts there. One could argue Demoff started the first and most crucial step.
Snead is on a bit of a roll... making "better picks" and "finding late round gems"... is that because the direction he's looking is now different under McVay?
With Brad Holmes leaving for the Lions, he spoke about the "Ram's use of analytics to really hone in on the players that you can predict will fit your roster". (
LINK
) Has Snead changed something internally to his processes since 2012?
It also appears somewhere along the way, after 2016, we shifted to a more "stretch and manipulate the salary cap" model. Was that Kroenke's influence and his leadership style desiring something similar to the Patriot Way, i.e. making "things all about winning"? Or was it simply a result of a more talented roster and we were tested differently to hold it together?
Wade Phillips speaks of a John Wooden-like culture that McVay brought with him. No doubt that has changed the team locker room. (
LINK
)
But was it as simple as finding and adding McVay? The on field strategy and brilliance?
Yet, how do we explain improved player acquisition strategy and drafting success of recent years? That sure seems "different/better" too.
And wrapping things up... Look at the ages of those guys running the day to day operations... 42, 50, 35. They have a lot of career runway ahead of them... Can we keep these guys and their egos together?
Everything is working right now. If we understand the reasons why....
THAT is our secret sauce
.
What do you think?
4
Reactions:
Merlin, Riverumbbq, XXXIVwin and 1 other person