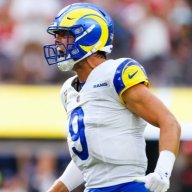 System Waterboy
Rams On Demand Sponsor
Joined

May 8, 2014
Messages

16,885

This year's playoffs should be special. We are going to see a playoff collection of teams that are almost 100% healthy and ready to compete without the typical excuses that follow a long and grueling season. There won't be a bunch of dinged up players who don't show on the injury report. It's gonna be balls to the walls for the Cup.
Should be a special tournament. And the NHL leadership, btw, has done a great job of setting this thing up, from the Commish through the Players Association leadership. We are about to be treated to an outstanding playoff drama and it couldn't come at a better time with so many people having burned through every Netflix show they can think of.
Who's gonna be watching? I'm gonna be in full fledged playoff mode MFers, geared out and the whole nine. Go Knights!