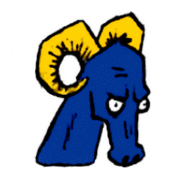 Hamburger Connoisseur
Moderator
Joined

Jun 28, 2010
Messages

43,048
Name

Burger man

What do you think ROD?

Russell Wilson… the Bronco's are banking on a Stafford-esque run with Wilson.

Is the to-be 34yr old Wilson the guy to replicate that?

Rams fans have watched Wilson for years…

Last season Wilson rushed for 183yds… by far his lowest, even adjusting for playing only 14 games last year. His 4.3 YPC his 2nd lowest.

If Wilson is losing some of his legs, is he the same QB we saw for many years in Seattle? If now more a pocket passer, how does he do in Denver?

Or, does he still have that mobile dynamic, and last season more the Walton offense effect? Bad oline.

Makes me wonder, was last season's 7-10 stink-bomb record possibly more on Wilson, than Pete?

If so… Is Pete Carroll about to prove a lot of people wrong?

Many of us chuckled at the thought of Pete doing the Seattle rebuild. Myself included.

So…

What do you think? What happens?

Is Wilson about to "do a Stafford" for the Broncos? He takes them to the next level and they become a regular contender for the next 5yrs or so? In this scenario, Pete Carroll was the wrong guy to keep in Seattle, probably.

Or is Pete Carroll the right piece to keep in Seattle, over Wilson? Pete goes on to rebuild the team with their solid draft (on paper) and win with Drew Lock? Pete's got a .619 win % in Seattle.

Or is there some mash up of both being successful in this split? Or both sucking eggs?

What do you think?