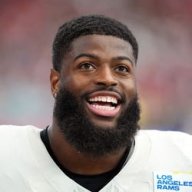 Rams On Demand Sponsor
Rams On Demand Sponsor
ROD Credit | 2020 Richest Member
Joined

Nov 3, 2013
Messages

25,461

All the picks are spent so I think it's pretty obvious to Rams fans we did well if not won outright this trade:

Rams received:

Jalen Ramsey

Jaguars received:

K'lavon Chaisson, Travis Etienne

Traded away 4th round pick and 2 other picks(not acquired from Rams) for: Jordan Smith, Luke Farrell

Side note for the Jags if they didn't dump Ramsey there's a pretty good chance they don't end up picking Lawrence which basically means by losing games they won the deal as well since they now have a guy who could go down as the best QB in their franchise history. I think it's safe to say each side won the trade one of those rare deals that worked out for all parties. Ramsey is obviously happy here he got paid and he went to a franchise that's winning games plus he seems to thrive in our locker room and culture. What are your thoughts?
10
Reactions:
Loyal, Tron, RamBall and 7 others