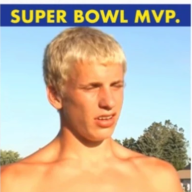 Replacement level starter
Joined

Jul 31, 2016
Messages

1,702
Anyone else have a playoff loss that they for some reason watched multiple times?

For me it was the Panthers in 03/04. Not sure why but I watched that game over like five times, each time shocked that Wilkins came up short on that kick and remembering how I celebrated prematurely when the kick was straight.
I can't say I've ever watched that game again, but I'm pretty sure my then-girlfriend telling me "I can't believe you are so upset about a stupid football game." was the beginning of the end of that relationship.