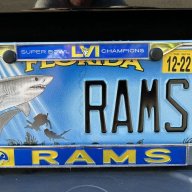 Rams On Demand Sponsor
Rams On Demand Sponsor
Joined

Jun 29, 2016
Messages

2,486
Name

greg

Just wanted to start a planning thread for the MC game against the Chiefs. I've heard a few peeps say they are going. Hoping we can all get together and have some fun while in town. Also, would be nice if folks knew what areas everyone was staying in.
We are flying in @ 5:15pm on Saturday the 17th. Fly back out @ 9am Wednesday the 21st. I've been researching "What is the best area to stay in" The general consensus seems to be..
1. Polanco
2. Condesa
3. Roma
After looking at quite a few reviews I think we're leaning towards Polanco. But before we book if anyone has any other ideas/reviews/thoughts... we'd appreciate the info! I'm seeing some really nice places for well under $100 a night. Such as this 2 bdr apt for $95 a night located in Polanco....
https://www.airbnb.com/rooms/15361532?l ... s=YXx9mVV9
Lot's of cheaper options in all 3 areas too! Also, all 3 neighborhoods are within 1-2 miles of each other
Another aspect of the trip that's HUGE to me is transportation to and from the game. Getting to the game doesn't seem like a huge deal. Getting out however, might be. The game should end between 10:15-11:00pm. The Metro closes at Midnight. I've been wondering if we can hire a van for a round trip charter. If folks might be interested in that. I've read that Taxi's and Uber can be a problem with the max exodus when the game ends. I know it is around the coliseum too.
Any thoughts or ideas please throw them out here to discuss! Or shoot me a text or call!
Greg
714 510-7693